Delays in consulting with a lawyer may weaken your case.
---
In our mobile devices, we save contact numbers for our favorite food delivery and friends, but we rarely ensure that our phones include essential contact details that can benefit us in times of crisis. Most people are unprepared for unpredictable events, such as car accidents. And when we inevitably encounter such situations, we are lost as to what steps to take and we do not know whom we should call.
Here we will answer some common questions to help you prepare for a potential car accident or other unforeseen circumstance in which you are injured. We will also explain how a Philadelphia personal injury lawyer can help after a crash.
What steps should I take immediately after a car accident?
A car accident may leave you in shock and numb your senses, rendering it difficult to act optimally in response to the situation. These are the immediate steps you should take after getting into a car accident:
Seek Medical Help
The first thing one should do following an unfortunate accident is seek medical help. Regardless of how minor you may assume your injuries from the accident are, it is always important to call an ambulance and seek professional medical attention. Many victims fail to seek medical attention immediately if they believe that their injuries are not severe. However, sometimes the true extent of accident-related injuries is only readily apparent day, weeks, or months following the crash. In situations like these, if you have not reported the accident within 24 hours of the crash or failed to seek immediate medical assistance, it often becomes more difficult to prove that the accident causes the injury.
Get contact information from the other driver. In most motor vehicle accidents, there are at least two drivers involved in the crash. Some of the most important details to record about the other driver or drivers include:
Name
Phone number
Address
License plate number
Driver's license number
Take Pictures Of The Scene
The photographic evidence you collect at the scene may be beneficial later on when you attempt to prove fault in your personal injury case. Some of the things most important to capture in your photos include:
Weather conditions
Road conditions
Vehicular damage
Property damage
Bodily injury
Speak To Eyewitnesses
If anyone else had witnessed the accident, record their contact information for future reference. This may help as evidence if you need to present your case in court.

Call the police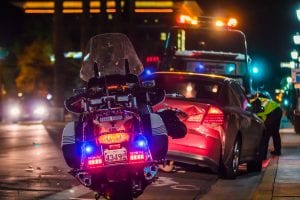 It is important to call the police immediately after the accident so you can file a police report of the crash. Be sure to request a copy of the accident report for your records and so you can provide it to your lawyer.
Who can help me after a car accident?
It is important to contact a car accident lawyer as soon as you can following the accident. An experienced lawyer can help you evaluate your injuries and other losses you suffered and estimate how much compensation you deserve to receive from the party at fault. Delays in consulting with a lawyer may weaken your case. When you delay the process of pursuing compensation, you may lose access to important evidence or you could forget important information crucial to proving your case.
The Law Offices of Samuel Fishman is a personal injury law firm helping accident victims get the compensation they deserve for over 25 years. We have a team of experienced lawyers who know how to navigate the complex legal system and get our clients the best possible outcome.