Washington, D.C. – Yesterday, MoveOn Political Action hosted a virtual celebrity "One Chip Challenge" event to raise money to fund get-out-the-vote (GOTV) efforts in the Georgia Senate runoff on December 6. During the #ChipInForGA livestream event, several celebrities took part in this viral internet challenge by trying to eat a single Paqui tortilla chip made with one of the hottest peppers on the planet, the Carolina Reaper.

VIEW FULL REPLAY HERE & HIGHLIGHTS HERE
ICYMI, here are some memorable moments from the event featuring Tom Colicchio, Andy Daly, Chelsea Handler, Andy Richter, Sarah Paulson, Busy Phllips, Phillipa Soo, and Bradley Whitford, that so far has raised more than $70,000:
Comedian Chelsea Handler revved up her fans to watch her do the challenge and conquered the "very unpleasant" chip during the event.
Actor Sarah Paulson guzzled a jug of vinegar on camera to cool down after consuming the chip.

Actor Busy Phillips likened eating the chip to the painful "ring of fire" home stretch of the birthing process.  
After Broadway star Phillipa Soo commented on how accomplished she felt after eating the chip, Andy Richter replied, "Who would have thought that something this dumb would lead to an epiphany?" 
And earlier in the day, actor J. Smith Cameron fell on the floor beside her "Succession" co-star Fisher Stevens after eating the chip after canvassing for Warnock in Marietta.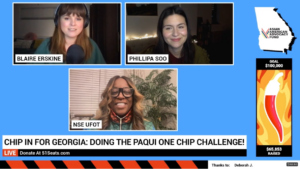 While there was an overall comedic element, participants all lifted up the importance of building grassroots infrastructure and the long-term engagement of voters. Comedian and "Jimmy Kimmel Live" writer Blaire Erskine and Phillipa Soo fired up viewers early on. Soo said that "democracy is like exercise. You can't just do it once and expect it to work. You gotta keep doing it, keep participating."
"The common thread is that there is infrastructure," said New South Super PAC founder Nse Ufot, including "how we put feet in the streets, how we move people to action. … We've been preparing for this moment the entire year. … That's why we will win!"
All of the proceeds raised from the event will be donated to fund local grassroots GOTV organizations in diverse communities across Georgia who are helping Democrats secure the 51st Senate seat: Poder Latinx, Asian American Advocacy Fund, Black Voters Matter Fund, and New South Super PAC.
Watch the replay of the event here:
🔥 HAPPENING NOW: @MsSarahPaulson & @AndyRichter doing the Paqui One Chip Challenge!🔥#ChipInForGA: https://t.co/KeuH3p26ORhttps://t.co/dWraPyncHh

— MoveOn (@MoveOn) December 2, 2022
MoveOn Political Action Executive Director Rahna Epting added, "We are so excited to kick-start our Georgia GOTV efforts in such a fiery, creative, and engaging way. Senator Raphael Warnock is a powerful voice and a leader on issues that matter to Georgians. The entire MoveOn team, in addition to our incredible coalition of grassroots participants, is fully committed to ensuring Warnock is victorious on December 6 and that Georgia stays blue!"
###
About MoveOn Political Action
MoveOn is a people-powered force for progress. MoveOn mobilizes the left to elect Democrats and enact progressive change. We are the homebase for millions of members who refuse to accept the status quo and are moved to take action. For more than a generation, MoveOn has been a bulwark against the radical right, channeling our voices to end wars, protect democracy, and advance justice for all.