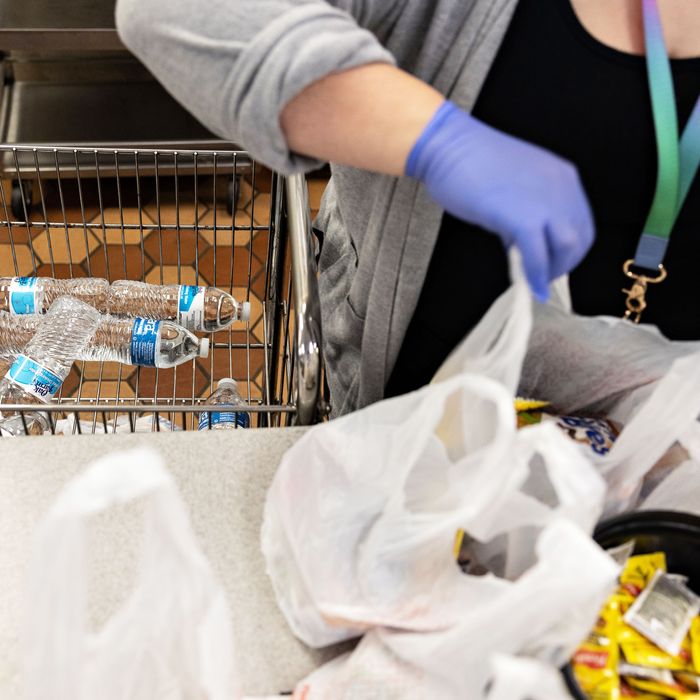 Photo: Shelby Tauber/Bloomberg via Getty Images
Across the U.S., the weather has been brutal this week. Continuing into the weekend, more than 85 percent of Americans will see temperatures above 90 degrees Fahrenheit, with millions set to endure temperatures even higher. The southeast and southern plains have been hit the hardest, but heat warnings or advisories have been in place across more than half of the 50 states throughout the week. As of Tuesday, Oklahoma set a daily heat record at 110 degrees, while Austin has endured 40 straight days of temperatures over 100 degrees.
In many places, the temperatures are high enough to be dangerous. As of Tuesday, 89 wildfires were raging across 12 states. Over the past month, states like Oklahoma have seen an increase in heat-related health emergencies, including heat exhaustion and heatstroke. In Texas, infrastructure is breaking down due to increased demand for resources such as water.
Across the Atlantic, countries in Europe, where less than 5 percent of homes have air-conditioning, have also been experiencing record-breaking temperatures and wildfires. Over the span of about a week, over 1,900 people died in Spain and Portugal due to heat-related causes. And scientists warn that summers of oppressive heat and related climate emergencies (like wildfires) will continue to be the norm.
Major cities across the country are organizing cooling centers (here's how to find one in NYC), and public officials are urging people to stay inside, stay hydrated, and check in on their neighbors. When temperatures spike, the elderly, the homeless, the incarcerated, and those with underlying conditions are especially vulnerable. Here, some ways to help if you're able to:
During a heat wave, it is important to stay hydrated, cool, and vigilant. Supplies like water, water bottles, frozen treats, and fans are necessary, but so is fresh, comfortable clothing such as T-shirts, shorts, and flip-flops. Staying protected from the sun, which includes wearing sunscreen, a baseball cap, and sunglasses, can also help keep people safe. You can bring supplies to a local food bank or mutual-aid organization. Below, a few organizations currently seeking donations:
Blanchet House is a Portland-based free café and transitional shelter. In addition to cooling centers and water stations, it is providing clean T-shirts and water to those in need. Donate here.
Bethesda Project helps the homeless in Philadelphia by providing emergency shelter as well as housing and supportive services. It is collecting high-need items during this heat wave. Donate here.
The United Way of Brazoria County in Texas works to support its community in a variety of ways, including during weather emergencies. It is seeking bottled-water donations. Donate here.
Family Eldercare supports older adults and people with disabilities in Central Texas. Each year, it hosts a summer fan drive. Donate here.
The Visiting Nurse Association of Texas is an elder-care organization in Dallas. On top of its Meals on Wheels program, it is providing clients in need with fans. Donate here.
Citymeals on Wheels delivers meals to homebound elderly people in New York City. Donate here.
The Idaho Immigrant Resource Alliance is hosting a raffle to send supplies to help Idaho farmworkers during the heat wave. Details to enter the raffle are here.
The Legal Aid Society is an NYC-based law firm for low-income families and individuals. During the heat wave, it is advocating for the rights of incarcerated people, including the creation of cooling centers for people in prison. Donate here.
Sunrise Movement is a youth organization that organizes to elect climate-conscious government officials and advocates of the Green New Deal. Donate here.
Climeworks helps reduce total emissions with a technology that removes CO2 from the air. If you want to support its efforts, donate here.
Giving Green is an IDinsight initiative that directs donors and volunteers to evidence-backed projects that fight climate change. Donate here.